"WELL WHATTA FUCKING KNOW. THERE IS AN UGLY DEDEDE AND META KNIGHT. THEYRE UGLIER THAN ME AND IM FUCKING POORLY DRAWN. MABYE THERES A BADLY DRAWN DYNA BLADE"
      —PDK on facebook
The Poorly Drawn Kirby is a character in The Air Ride Series.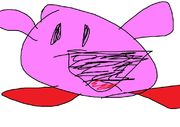 The Poorly Drawn Kirby complains because he is so Poorly Drawn. He was originally going to be kirby, but sakurai sucked at drawing and had some people make a new character called Popopo, since nobody who read nintendo power liked him.
Poorly Drawn Dyna Blade
Poorly Drawn Meta Knight
Everyone else in the series.
He was created by GreenKirby121098.
His anneversity as a character is on June 28.